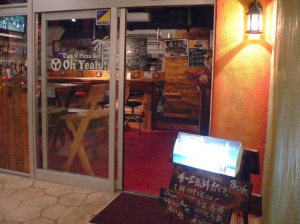 Cafe & Bar OH YEAH!
098-936-6288

Hour: Business Hours: 17:00~4:00 AM / Closed: Unfixed Holidays
You might mistake yourself for being in an American bar here at "OH YEAH". The bar faces the ocean and your can watch the breathtaking sunset while you enjoy your drinks. The terrace is perfect for couples!
We also have a great line-up of drinks. Our No. 1 drink is the "Zombie"! It has quite the visual impact just like the name, but it tastes unbelievably great you're bound to get hooked on to it! But the ingredients are a secret. If you want to know what's in it, come by and order one! If you want to have a fun and wild night, come to "OH YEAH"!
We are very sorry!
No DATA...