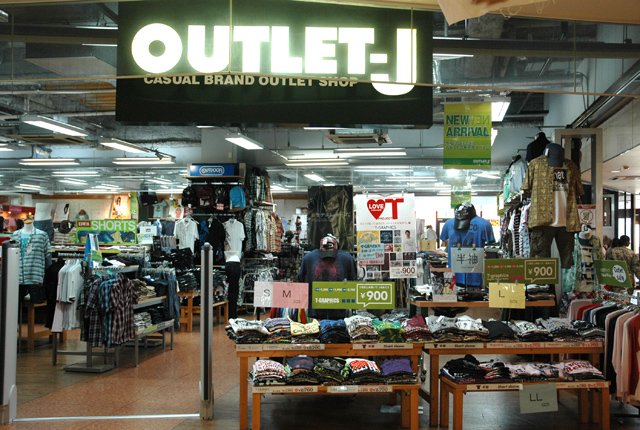 OUTLET-J, Mihama Store
shopping
Carnival Park Mihama
098-936-7736

Hour: 11:00-23:00 / Closed: Open everyday
We have a wide variety of items, not only clothes and goods by popular jean's casual (*7) brands such as EDWIN, Wrangler, Dickie、Bobson, OUTDOOR, and DISCUS, but also dressy style such as casual jackets & slacks, dress shirts, ties, and belts.
In addition to lifestyle miscellaneous goods related to kitchen & living room, we have "NAVY・STORE" that sells socks and inner wears such as underwear in the same area.
You can enjoy shopping with all your family with a wide variety of goods from men's/women's to kid's clothes.
1) You can alter the length of a pant such as jeans for free & quickly. (Additional 300JPY in case of 1,500JPY or less purchase)
2) You can issue a card by which you can accumulate discount points per 100JPY purchase (available for 450 shops all over Japan), without any procedures, and for free.
3) If you register to the mobile member for free, you can shop with discount at the day (this discount is not available with other discounts).
4) We can trade unnecessary clothes or accessories (100 discount per 1,000JPY purchase).
You can ride with 20 % of discount per adult with a receipt showing 500JPY or more purchase in Carnival Park Mihama.
*Only the receipt at the day is available.