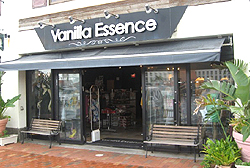 Vanilla Essence
shopping
American Depot C
098-936-0022

Hour: 12 : 00 to 22 : 00 / Closed: all year round
No.1 sexy wear shop in Okinawa!
We have a large assortment of items selected on the basis of the concept of "SEXY" that we have directly imported from LA.
You are certain to be knocked out not only by sexy dresses but also sandals available in many styles and accessories you need for coordination.
The good news is that everything is reasonably priced, so you can thoroughly enjoy a shopping.
The fact that we have many regular customers who are American is evidence that our products are authentic. Look sexier with the latest LA fashion!